Meeting with Professor Nguyen Duc An - Bournemouth University
2022-10-17T05:52:11-04:00
2022-10-17T05:52:11-04:00
https://philo.ued.udn.vn/undergradutate-degrees/meeting-with-professor-nguyen-duc-an-bournemouth-university-6.html
https://philo.ued.udn.vn/uploads/news/2022_09/image-20220821115542-4.png
PHILO
https://philo.ued.udn.vn/uploads/hilogo3.png
In order to enhance the cooperation between the University of Danang - University of Science and Education (UD-UED) and Bournemouth University, the UK, on the morning of August 02, 2022, UD-UED had a meeting with Prof. Nguyen Duc An, the director of the Centre for Science, Health and Data Communication Research, at Bournemouth University.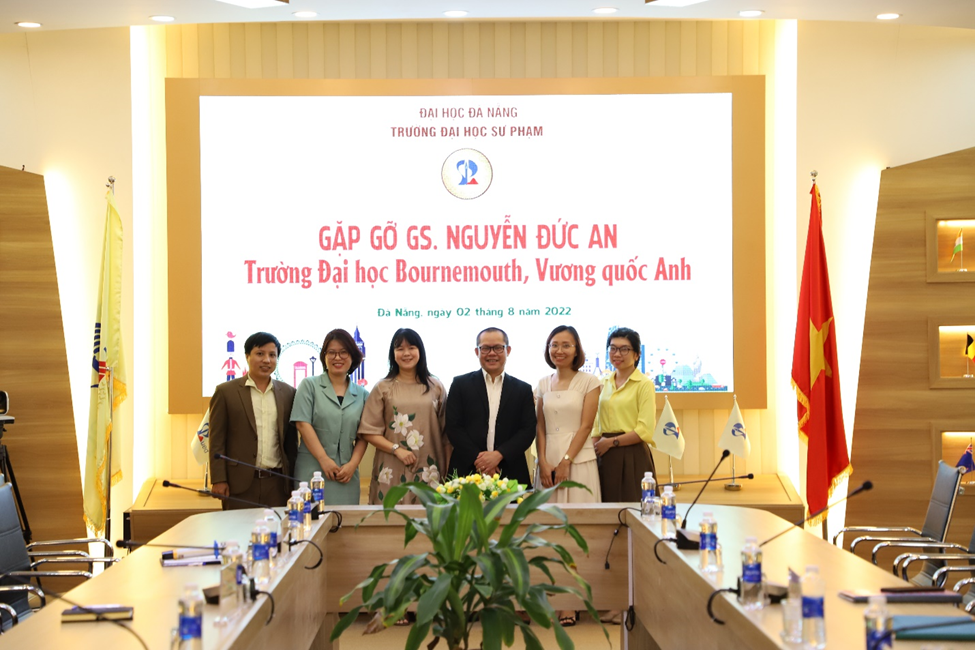 From UD-UED, there was the participation of the leaders and representatives of the related departments and faculties: Dr. Bui Bich Hanh - Vice Rector of the University, Dr. Nguyen Van Sang – Deputy Head of Department of Science and International Cooperation; Dr. Ho Tran Ngoc Oanh - Dean of Faculty of Literature and Linguistics; and Dr. Tran Thi Yen Minh - Vice Dean of Faculty of Literature and Linguistics
.
At the meeting, the University respectfully welcomed Prof. Nguyen Duc An to UD-UED, made the introduction on UD-UED, highlighting that University of Education - UD is one of the 07 national key teacher training universities and it is the multi-disciplinary and multi-field institution, and the "UED Inspiration" scholarship fund. The scholarship fund is initiated by the university staff, bringing the message of talent nurturing and humane meaning to the students of the University. UD-UED always attaches importance to cooperative relationships with domestic and foreign partners.
At the meeting, Prof. Nguyen Duc An talked about the opportunities to connect and work with Bournemouth University in the near future, and especially the Professor said that he is always "ready" for UD - UED.
On the same day, Prof. Nguyen Duc An had a talk with lecturers and students of
Faculty of Literature and Linguistics
on "Journalism in the digital environment: How to transform towards opportunities and challenges".
"Prof. Nguyen Duc An, is currently a Professor of the Faculty of Communication and Journalism, Bournemouth University of the United Kingdom (ranked #95 in the world according to The Young University Rankings). He has published 4 books and over 40 research articles/chapters in various fields: Digital journalism, public media, science and health communication, data journalism, and development journalism. He is a member of the editorial board of seven international journals. Prof. Nguyen Duc An is the founder and director of the Master's Program in Communication Management of Stirling University in Vietnam…"